Rock Dust
With the exception of nitrogen, all of the elements essential for higher plant growth are derived from rock and minerals. The fertility of your soil directly relates to the levels and range of these minerals found in our soils.
The addition of finely ground local rock dusts is a proven way to maximize this mineral content that is then further broken down by the microbiology in the soil, transforming it into a bio available form for our plants.
Azomite
Azomite is one of the first rock dusts that was discovered and effectively marketed to the gardening and agricultural industries. This unique silica clay deposit was discovered near Salt Lake City in Utah in the 40's, and has proven to contain an unusual array of minerals, trace and rare earth elements in a balanced ratio. The deposit that this material comes from is actually an old volcanic deposit that filled a seabed an estimated 30 million years ago. The combination of the ash and the mineral rich deposits from the surrounding rivers and watershed created the distinctive composition that became Azomite- 'the A to Z of minerals and trace elements'. It is the diverse range of trace elements in this material that are of particular importance. Though the quantities of these are minute, their presence is essential as they serve as critical catalysts in the soil.
Note; 2.3 cups/1lb
Basalt
24 cups is about 15lbs
Basalt - Huplaso
Huplaso is a new basalt from New Brunswick that we have recently brought in which is proving to be an excellent rock dust option. All basalts originate from volcanic activity and consequently can be rich sources of macro, micro and trace elements. Huplaso comes from mafic volcanic rock that dates back to the Middle Ordovician times. This deposit emerged from a rapidly cooling magma deposit on the east coast of Canada, and contains 57 different mineral elements.
But one of the great benefits of basalt is that it generally carries a high paramagnetic reading. The advantage of paramagnetism is not readily embraced by current science. However, most soil scientists are aware of the work of Phil Callahan, who has contributed significantly to the understanding of what constitutes a healthy soil. Because of its own high paramagnetic value, Huplaso is a powerful tool to use in your soils. It is also a valuable liming agent in soils.
This product is approved for organic use.
Bentonite Clay (Calcium Type)
Carbonatite
Measurement equivalency- 25 Cups /15 lbs
The area around Sudbury is well known for its rich nickel and mineral deposits that resulted from the rich in volcanic activity in this Precambrian shield area. Carbonatite is a calcium and silica rich rock material that comes from an old volcanic shaft in that area. It has a very reactive and plant available concentration of calcium carbonate- CaCO3. The 'reactivity' of the rock mineral is important, because this reflects how quickly a mineral will be broken down in the soil by the microbiology into a form that is readily available to the plants. This form of calcium results in a very reactive aglime that is effective in countering soil acidification.
The size of the mineral particles definitely impacts the effectiveness of microbes in breaking down the rock material. Micronized rocks- those that are ground down into a very fine powder, definitely break down quicker than sand grain sized pieces. However, the physical hardness of the rock, along with its crystalline structure also has an impact. Carbonatite is a very good mineral addition for soils as it has a nanocrystalline structure, so the particles are roughly a thousandth of the size of micron powdered limestone. It gets taken up by soil ecosystems faster than many other calcites, and has consequently been likened to 'pet food for your microbes'.
Carbonatite also contains a very good level of phosphorus that is readily soluble and available to the plants root structure. The phosphorus found in carbonatite can be found in its apatite content. Unfortunately, many phosphate containing rocks tend to also have significant levels of heavy metals and radioactive isotopes, including cadmium, thorium and uranium. The apatite found in Spanish River Carbonatite is free of these types of heavy minerals and radioactivity.
It also contains a respectful level of Biotite which is a form of high energy clay which is held together by potassium ions. This potassium can become available in a quick manner and in a form that is readily taken up by the plant. This biotite has a CEC capacity of 180meq/100g. This makes it a better potassium and clay contributor than Greensand.
Carbonatite also contains a most extensive suite of trace minerals, many of which are critical catalysts in mineral/microbial/plant interactions. These provide the punch to the microbial populations that helps to speed up the breakdown of this mineral in your soils.
Dolomitic Limestone
Measurement equivalency- 1.4 cups/1 lb
There are a number of calcium products that can be used in your soil. Some, like oyster shell, provide a pretty pure calcium source. Wollastonite is a calcium silicate, meaning that you get a good supply of silica along with the calcium. Gypsum, is calcium sulphate, and has a sulphur content. Calcitic limestone is calcium carbonate, which provides a valuable additional role in neutralizing acids in a soil.
Dolomitic limestone is a combination of calcium carbonate, and magnesium carbonate, which means that the calcium here is found in the presence of magnesium. This limestone takes longer to dissolve in the soil than calcitic limestone, which also extends the length of time it takes to moderate the soild ph. With respect to their ability to neutralize soil acidity, there is little difference between the lime types.
The use of dolomitic limestone needs to be considered in conjunction with its magnesium content. In naturally high magnesium soils, its use can be a problem, as once magnesium levels climb, they can be very difficult to moderate. The overuse of magnesium in the soil causes soil to bind, and also encourages rampant weed growth. Soils that drain poorly- clay and clay loam soils- generally have a higher magnesium content. It is the magnesium that 'binds' the soil together, whereas adequate calcium helps to break apart soils, creating a lighter, 'fluffier' soil. Use of dolomitic limestone in clay soils is not recommended.
If your field contains a calcium-to-magnesium ratio of 6:1 or greater, your field is considered to be magnesium deficient, and you should strongly consider using dolomite lime to bring your mineral balance in line. In soils that have average or low magnesium levels, such as quick draining soils, especially those that are sandy- dolomitic limestone is able to provide both the calcium and the magnesium that the soil might require.
But before you decide on which calcium source is best for your application, give consideration also to the ph of your soil. If the ph is below 7, this means your soil is acidic, and a lime treatment is necessary in order to help balance the ph. Balancing the ph alone can substantially help encourage the growth of micro organisms that contribute to plant health and encourage strong crop production. But give careful consideration to the existing magnesium content of your soil before choosing a lime. Reversing a high magnesium soil or a dolomite lime treatment can be difficult, time consuming and expensive. If you don't need dolomite lime, calcitic lime simply works better at restoring ph. So if you are merely looking to correct the pH balance, you are much better served choosing calcitic lime.
Glacial Rock Dust
Measurement equivalency- 34 cups/15 lbs
Along with Azomite, glacial rock dust was one of the first rock materials to be widely promoted as a garden soil amendment. It was thought that as the glaciers retreated, they left concentrated deposits of sand and gravel placer, that reflected a wide range of rock material from broad geographic regions. These glacial moraine deposits are rich in diversity, and frequently also contain alluvial loess and silts. It was thought that glacial rock dusts emulate the natural forces that regenerated and remineralized many areas of North America.These deposits can, however, also be inconsistent in the value of material they provide. Often, the softer minerals have been weathered away, which leave behind the a greater proportion of harder, less nutritive materials. Our glacial rock dust is finely micronized, which helps the material break down much more rapidly under the action of the soil microbes.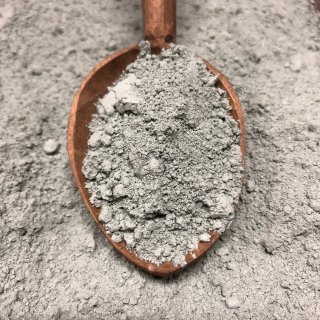 Green Sand
Greensand is a rock dust that is also known as a 'glauconite'- an iron/potassium silicate. It is the glauconite that gives this material its light green colour. This rock material contains over 30 trace minerals, along with calcium, phosphorus, iron, potassium and magnesium- all essential nutrients for plant health. Its origins are found in areas that were laid down under the seas of an evolving planet millions of years ago. The virtues of greensand have been extolled for years by gardeners who see the impact that the extra mineralization makes to the health, taste and nutritional content of plants grown where it was added to the soil.
Gypsum
Measurement equivalency- 26 Cups/ 15 lbs
Gypsum is a common hydrated calcium sulfate mineral. One of its benefits comes from its ability to break up heavy, compacted clay soils, as it can effectively change the soil structure of soils that have been compacted due to flooding, overcropping and heavy traffic. It has the ability to penetrate the millions of fine clay particles in heavy or hardpan type soils and loosen the soil structure. This process then creates air and moisture spaces that eventually loosen and break-up the soil structure. The only problem is that this doesn't happen overnight, it takes yearly applications, over about a three-year period to get the job done. For most home gardeners however, reducing compaction and improving aeration is better accomplished by the application of an organic mulch in nearly any landscape.
Gypsum is neutral and does not change the soil pH. However it is also valuable for reducing excess sodium in soils, and for adding calcium.
Rock Blend
This is a mix of Basalt, Woolastonite, Volcanophos, Oyster, & Soft Rock Phospate
Note; 15 cups/10 lbs
Soft Rock Phospate
Note; 23 cups/15 lbs
Phosphorus is a major nutrient that is essential, especially in the spring, where plants can consume up to 605 of their annual intake in the first few weeks of life. Most of this phosphorus goes to developing root growth in a plant and for nitrogen processing by legumes such as soy and alfalfa. Its availability in the soil is dependant on the ph of the soil- at a ph of 6 or below, the uptake of phosphorus is pretty good.
Colloidal phosphate, or soft rock phosphate, comes from a clay that settled out into the bottom of basins that were used in the processing and mining of hard rock phosphate. As such, it is a limited material, however it provides a very good phosphate source. As it is clay based, it does not leach away from the soil due to water. Consequently, it stays in place in the soils where it has been introduced and is long lasting. A good soft rock phosphate such as our Tennessee SRP also brings a respectable amount of calcium to the table as well.
This product is approved for organic use.
Volcanophos Rock Dust
This is a great addition to the rock dust line up we offer. Volcanophos is a carbonatite/phosphate igneous rock that comes from the Kapuskasing area in Ontario. The unique thing about this mineral is that it is the only igneous rock available in North America that contains apatite, which is a phosphorus source. In addition to this, the igneous base to this deposit means that it contains a profuse range of trace minerals and rare earth elements, which sedimentary rocks generally lack.
Like most of our rock dusts, we have this material micronized. This makes for a more costly product, as the material, which initially comes in a sand like texture, is then ground down into a fine powder. However, this greatly increases surface area of the rock dust, which in turn allows the biology in the soil to more readily access to the material. This results in it being broken down more rapidly.
As with all rock dusts, it is best mixed with a compost or peat carbon source in order to facilitate the breakdown into bio available forms. Therefore this is an excellent material to add to your compost piles at a rate of approx. 10% by volume.
5 lbs is approximately 7 cups
This product is approved for organic use.
Wollastonite
Equivalency measurement- 23 cups/15 lbs
Wollastonite comes from the area around Seeleys Bay in Ontario. Its source is a high grade calcium silicate deposit that when mined and ground down provides an excellent rock dust made up of approximately 27% silicon, 16.5% calcium, and 4% magnesium. Although most soils can benefit from the calcium addition, it is the silica content here that is of interest.
Silica is a crucial mineral, as it contributes greatly to building the strength of cell walls, which in turn protect the plant from pests that seek to chew and suck on the plant structures. Strong cell walls not only encourage upright plant structure, but they trigger a range of natural defenses. A cell wall fortified with adequate silica levels protects the plant from assault by the different fungal pathogens by making it much more difficult for the fungal pathogens to be able to eat their way through the cell walls into the cell centre where it then gains a foothold and spreads.
Silica boosts photosynthesis and chlorophyll development. The nutrient pathways in the plant- the xylem and phloem- govern the movement and translocation of mineral nutrients throughout the plant. It is silica that is responsible for the creation and maintenance of these pathways. And without adequate levels of silica in its structure, plants will all too often succumb more readily to the stresses brought on by drought and low water conditions.
"The stronger the cell wall, the more stress-resistant the plant, whether that stress is from pathogens or non-living factors." Graeme Sait, Australian Agronomist
This product is approved for organic use.
Yoorin
Note; 16 cups/15lbs
Zeolite
1 cup is .512 lbs
Diatomaceous Earth