Cannabis Cultivation and Science Podcast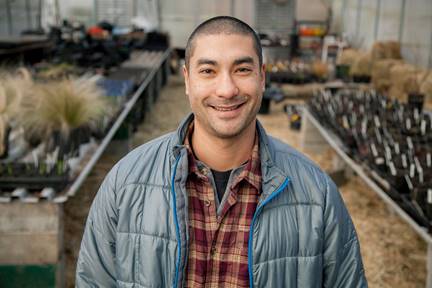 Tad Hussey runs Keep It Simple, Inc, a small family business, which was founded by his parents. After studying in both Washington and Australia, Tad returned to the States and took over the research, microscope testing and consulting of the family company. Under his direction, the company has grown into a multi-faceted organization composed of a nursery, production greenhouse, and an organic hydro shop offering unique biological, organic and mineral amendments
Tad is central to the canna community in the Western US, and wanted to create a series of podcasts which highlight some of the leading experts and authors in the field of plant nutrition and soil health. In these podcasts which he posts to his site, he converses with many of these individuals, the results of which provides hours of fascinating insight into areas of plant growth and cannabis production that are very difficult to find elsewhere.
Tad has graciously allowed Black Swallow to repost these podcasts on our own website for our customer's benefit. For this generosity, we are deeply grateful! You will find a great series of blogs that Tad has also written on his own website- Kisorganics.com.
Episode 43 Latest Research in Cannabis Cultivation with Dr. Allison Justice
Episode 42 Fertilizer and Pesticides in Cannabis with the Oregon Department of Agriculture
Episode 41 Q and A with Jeremy Plumb of Pruf Cultivar
Episode 40 Jeremy Plumb, Director of Production Science at Pruf Cultivar
Episode 39 Branding and Marketing with Shango Los Part 2
Episode 38 Branding and Marketing with Shango Los Part 1
Episode 37 A Deeper Dive into Mycorrhizal Fungi with Jim Eagan
Episode 36 Plant Probiotics with Sarah Pellkofer
Episode 35 Mineral Balancing and Soil Test Analysis with Aaron Crozier
Episode 34 Are Bottled Nutrients a Thing of the Past? Nelson Lindsley Shares His Opinion and Announces a New Collaboration!
Episode 33 The Bug Lady is Back to Discuss Scouting and Cannabis Pests
Episode 32 Korean Natural Farming with Chris Trump
Episode 31 Learn from World Record Holder Ron Wallace about Giant Pumpkins and Yield
Episode 30 Powdery Mildew, Botrytis, and VPD with Travis Higginbotham
Episode 29 The Right Tool for the Job with Kurt Becker
Episode 28 How Fish Products Are Made And What The Differences Are with Casey Schoenberger
Episode 27 The Role of Lighting in Plant Growth with Fluence Bioengineering
Episode 26 The Hidden Half of Nature with Anne Biklé
Episode 25 Growing a Revolution: Bringing Our Soil Back to Life with Geologist David Montgomery
Episode 24 Running a Commercial Cannabis Facility with Nate Gibbs of Gold Leaf Gardens
Episode 23 Blumat Irrigation with Damian Koch Part 2
Episode 22 Blumat Irrigation with Steve Troy
Episode 21 Chris Jagger of Blue Fox Farms
Episode 20 LEAN Farming with Ben Hartman
Episode 19 Entomologist Suzanne Wainwright Evans aka 'The Bug Lady' is back!
Episode 18 A Deeper Look at Containers with William Evans
Episode 17 Understanding Soil Testing with Agronomist Kris Borgman
Episode 16 Permaculture and Cannabis with Jessi Bloom
Episode 15 Entomologist Suzanne Wainwright Evans aka
Episode 14 All About Biochar with Renel Anderson
Episode 13 The Future of Cannabis Cultivation with Jaya Palmer
Episode 12 Biological Horticulture Consultant Jaya Palmer
Episode 11 Dr. Faust of BioAg on Humic and Fulvic Acids
Episode 10 Practical Advice for Increasing Yield with Nelson Lindsley
Episode 9 Lighting Technology and the Poetry of Plants with Nelson Lindsley
Episode 8 Clackamas Coot weighs in on
Episode 7 Clackamas Coot talks about worm bins, peat moss, and building soil
Episode 6 Steve Solomon covers Soil Remineralization and Nutrient Density
Episode 5 Compost tea and microscope guru Tim Wilson talks living soil, vermicomposting, and soil exudates
Episode 4 David Perron discusses Living Soil, Insect Frass, and Commercial Production
Episode 3 Clackamas Coot talks Worm Castings, Malted Barley, Peat Moss, and Coot's Soil Mix
Episode 2 Jeff Lowenfels explains Mycorrhizal Fungi, Compost Teas, and the Soil Food Web
Episode 1 Introduction with Tad Hussey